THANK YOU (small read ahead…)
A personal heart felt Thank You to the Team at www.access1security.com.au you are the hardest working team I know – through ups and downs we always manage to find a way to shine…
We are the NATIONAL WINNERS – The highest accolade for the AUSTRALIAN ACHIEVERS AWARD! Well DONE Guys give yourselves a pat on the back.
Teresa, Angelo, Arie, Calvin, Luca, Evelyn, Bryce, Chesterina, and Wade. (Dennis & Braydon during COVID-19 was let go 😞).
And a Special Thanks to all our Customers, Clients and Friends… WE THANK YOU! 🥰😘😍
Results are Below: 📣📢✅
RE: 2020 AWARD RESULTS REPORT
Following our earlier advice regarding Access 1 Security
Systems's success in becoming the National Winner in
the 2020 Australian Achiever Awards for Australia's SECURITY INDUSTRY ‐ ELECTRONIC SERVICES category, we are pleased to present your notification of results.
You achieved a score of 99.68%* for customer relations and service. This is an outstanding result at a level very few achieve and shows that your customer service approach is one of the highest standard. 🤩
2020 Overall Score: 99.68%* 🎉
The following analysis of your score across all customer and trade references provides an indication of how your business rates over eight customer service values:
✅Time Related Service – phone calls/appointments/delivery 100.00%
✅Client Needs – is the customer getting/given what they want 100.00%
✅Care and Attention – all dealings handled with expected care 100.00%
✅Value – does customer satisfaction outweigh the cost 100.00%
✅Attitude – politeness/friendliness/handling problems 100.00%
✅Communication – clarity/courtesy 97.73%
✅Referral – word of mouth recommendation 100.00%
✅Overall Perception – consistency/standard of work/presentation 99.54%
Other comments received from your customers were:
😇I work with the government in crime prevention and do a lot of presentations and talks. When I have been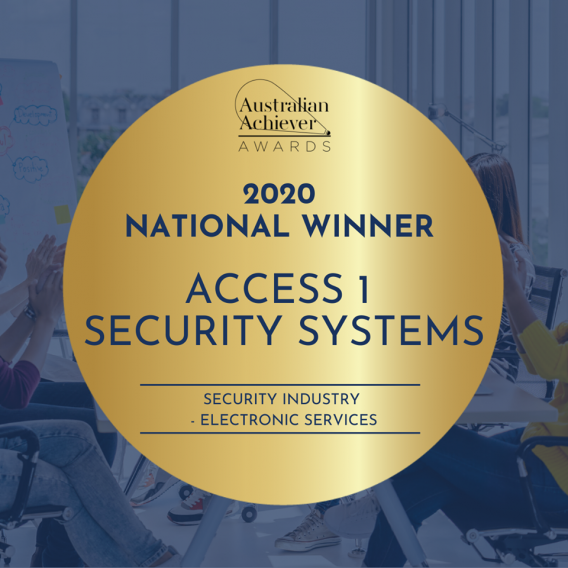 in partnership with the police and other agencies, I have used Access 1 Security Systems as my
recommendation to go to for security cameras. The feedback I have received has always been positive.
Andrew, the owner, is very knowledgeable, and he always puts the customer first. One thing I remember
him saying is that on every job he does, he always tries to make sure the customer is one hundred percent
happy at the end. They are incredibly flexible and accommodating with their time. An example is when I
had a power outage once on a Saturday morning, they came out straight away and spent five hours fixing
the problem. They are highly dedicated and motivated. They provide very comprehensive explanations of
the systems and happily answer any questions as they are going through. Plus they always give a run down
at the end to ensure we have full confidence in using the system.
😎They go above and beyond. When we were going through a tough time they paused charges and continued
supporting us. They put our happiness before their own pocket. They are impeccable, and the kind of
company that we now try to emulate. Their customer's business comes first. We are able to call twenty‐four
hours a day, and they will come even at two or three in the morning. I cannot advocate enough about how
they are really one of a kind.
😘I have always been very happy with Access 1, they have never failed me. I have dealt with a lot of their
staff, and they have all been very professional and provide accurate information. They respond promptly
and are always very friendly. We are a small business, but I feel like we get the same level of service as they
would give a larger business. Andrew deals with things face‐to‐face, which I like, and he is always readily
available.
Staff that were specifically acknowledged for their remarkable service:
Angelo ‐ very knowledgeable and motivated. 🤩
Calvin ‐ patient and makes sure we are happy. 🤓
Andrew (Owner) ‐ adds a personal touch. 👍
Ari ‐ is great. 👏
Thanks Again Every one you made us feel just that little more special that we enjoy helping people protect their Assets, Properties and themselves – It's our passion that drives your Safety.
It's our pleasure to serve you! 🥰
Andrew Herrmann – Managing Director.